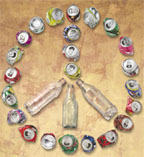 I spent the late evening early morning playing songs on blip.fm and You Tube. When I need to "chill", I tend to do this.
Organized religion is failing to provide role models of peace, our political leaders are failing to provide role models of peace, yes, this sounds rather harsh and negative but really, overall it rings true to me. There are leaders that are positive role models. Do they talk about peace much?
The most beautiful instruments' on Earth are our voices.  I am thoroughly disgusted with the folks who can't seem to talk about health care without trash talking the other side and town halls where rudeness, inconsideration, and outright yelling seems to somehow mistaken as acceptable behavior. From New Jersey to California the news focuses on the negative.
Music can reach across borders, music can touch our hearts, and music can reach down and touch the core of a person's spirit lifting it, if only for a few minutes from despair.
I hope you take two minutes and listen to the PS22 Chorus the kids are awesome!
UPDATE: MY MOTHER BOARD FRIED I WILL BE GONE FOR AWHILE . … AUGH!!!!!!!!!!